I am overjoyed to finally present my good friend, Hopi potter, Dextra Quotskuyva as our featured American Indian artist. Dextra is, by all measures, the matriarch of Hopi pottery. She began her artistic career in the mid-1960's and is still a creative potter 45 years later.

Dextra and I have been very close for more than thirty years, and I've followed her career without pause ever since. Over these many decades, reviewing Dextra's work in my mind, I am impressed that her pottery is fundamentally rooted in the ancient traditions of her Hopi people, but like all great innovators, she has used her materials and design vocabulary to impart creative interpretations unique to her. Dextra decided, right from the beginning of her pottery career, to go much further than just re-creating images made famous by her great-grandmother, Nampeyo of Hano. In fact, the diversity of Dextra Quotskuyva's painted designs is greater than I've seen in the work of any other American Indian potter during my 35 year career.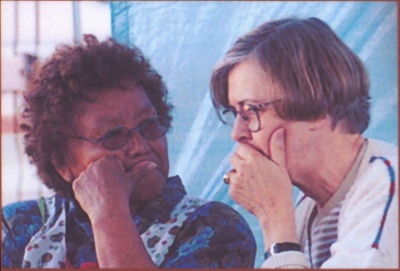 Dextra Quotskuyva and Marti Struever
Sometimes, Dextra's painted designs originate in dreams or visions. Other times, a particular life experience emerges in a painted design. For example, she has depicted on one vessel her feelings that arose from a morning prayer walk . . . the sun coming up, birds flying, flowers turned toward the sun. On the most recent of Dextra's pottery pieces, she painted a hummingbird with a single flower blossom after being inspired by a hummingbird that had appeared outside her screen door; a little bird that was the "most beautiful hummingbird" that Dextra had "ever seen." Dextra has always been careful not to repeat a vessel design, for she regards each pottery piece as almost an animate being with its own individual character. She, of course, creates all of her pottery in the traditional manner with natural clay dug from the nearby earth, hand-coiled, painted, and then fired out of doors with dung.
My relationship with Dextra began in the late 1970's when I organized the first exhibition of her work at my Chicago Indian Tree Gallery and is now coming full circle. Over the years, I did numerous additional shows of her work in Chicago and later mounted three exhibitions in Santa Fe. One show was in conjunction with a book that I wrote entitled "Painted Perfection: The Pottery of Dextra Quotskuyva." Now, this August, I am honored to offer a Dextra Retrospective, opening on Thursday, August 19, 2010 at the Eldorado Hotel in Santa Fe. Please enjoy this web presentation as a mini prelude to the coming retrospective show.
View Dextra Quotskuyva Pottery At Turquoise & Tufa Boutique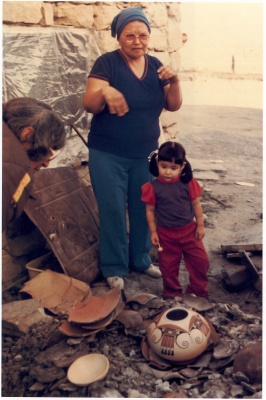 Dextra Quotskuyva with newly fired pot - notice Charles Loloma in the left of the frame. This jar was for him!