Books
As my relationship with American Indian artists has deepened over the years, I've written about a few of those with whom I've grown the closest.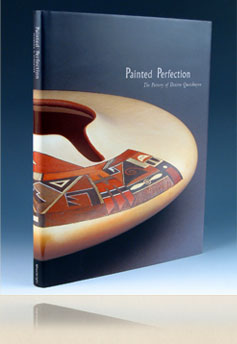 Painted Perfection: The Pottery of Dextra Quotskuyva
by Martha H. Struever
Dextra Quotskuyva is one of the most influential American Indian potters of the past half-century. She learned her masterful handling of clay through her distinguished family that has excelled in the art for more than 125 years. I've worked closely with Dextra for 30 years.
Publisher: Wheelwright Museum of the American Indian, Santa Fe. 2001
Pages: 123
Illustrations: 152
Hardcover: $55.00 [Purchase]
Loloma: Beauty is His Name
by Martha H. Struever
Charles Loloma is arguably the most influential American Indian jeweler of the 20th century. I met Loloma in 1975, and in 1977, organized the first of many shows of his work in my Chicago gallery. This book is a retrospective of Charles' more than 30 years of artistry.
Publisher: Wheelwright Museum of the American Indian, Santa Fe. 2005
Pages: 209
Illustrations: 258 colored plates, 33 additional.
Hardcover: [Purchase]
Softcover: [Purchase]