I'm thrilled to finally be introducing Pat Pruitt, a young American Indian man whose cutting-edge jewelry is truly moving American Indian art in new directions. Pat Pruitt's jewelry is staggeringly different from any other Native jewelry out there, but oh so impressive! He is a superb designer bravely bringing a new material, stainless steel, into the American Indian jewelry world.
Even though he's creating jewelry that is truly modern in every sense of the word, Pat Pruitt lives in the much more traditional Paguate Village in Laguna Pueblo, New Mexico. Pat grew up in Laguna, but his influences have come from far and wide, both Pueblo and non-Pueblo life. Pat's early jewelry-making experience came from talented traditional Laguna silversmith Greg Lewis. When Pat was 15, he was involved in a major bike accident, and recovery was lengthy. Fortunately, while Pat was recovering from his injuries, Greg Lewis took Pat under his wing and taught him traditional silversmithing concepts like hand-stamping and repousse work, which Pat Pruitt continued through high-school. After high-school, Pat entered a 5-year mechanical engineering program at Southern Methodist University in Dallas. Pat's time at SMU actually equipped him with the methods and materials with which he would later return to jewelry. As part of his SMU program, Pat interned at Texas Instruments in a prototype machine shop where he learned design and fabrication from a Polish master machinist who "could make anything." Pat then took his newfound skills and revisited jewelry-making, this time stainless steel jewelry for adorning body piercings. Pat's jewelry enterprise was so successful that Pat Pruitt eventually left SMU and committed full time to Custom Steel, his body jewelry business, becomming one of the more creative and innovative designers in the field. Eventually, though, Pat longed for a return to his earlier roots in the American Indian jewelry world although to this world he would bring fresh methods and materials.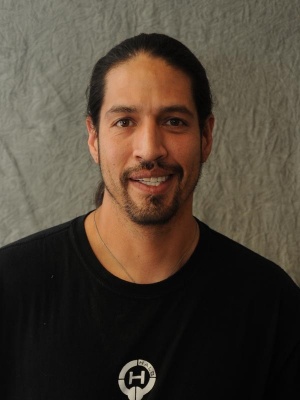 Photo Lee Marmon
2006 was Pat Pruitt's first Heard Show. His first SWAIA Indian Market was more difficult as Pat's method of machining his jewelry initially conflicted with SWAIA's commitment to only "handmade" art. Fortunately, Pat was finally able to show at Santa Fe Indian Market once SWAIA understood that his jewelry was still handmade, just created through a technique new to the American Indian art world. Pat Pruitt has since won quite a few awards for his innovation and exploration of new ideas. Look at this innovative diamond ring by Pat Pruitt. Pat is known for using cool "new" materials like raw industrial diamonds and eye-catching techniques like inlaying other metals into the stainless steel as in this Pat Pruitt bracelet.
I'm such a fan of Pat Pruitt's restrained, minimalist designs. Using his truly advanced machinist skills, his high-tech artwork continues to push the boundaries in courageous ways. Enjoy!
View Pat Pruitt's Jewelry at Martha Struever Gallery
View Pat Pruitt's Jewelry at Turquoise & Tufa Boutique