American Indian Bracelet Treasures
American Indian bracelets are as diverse in style as they are beautiful in appearance. They are truly treasures to be enjoyed and admired, so we have put together an American Indian bracelet treasures collection. These pieces have all required an immense amount of technial skill to create. Every single bracelet is made by hand and entirely unique, expressing the individuality of both the Native artist and wearer alike. Many of the bracelets were created before there was power available, so not only were they handmade but created using only hand tools as well. Just think of the skill required in cutting stones, melting silver, drawing wire, and creating stamps without any power tools whatsoever. Many of these pieces were originally made for American Indian wear rather than the tourist trade. You can rest assured that no one on earth will have another bracelet just like one of these treasures - there will never again be any made exactly the same.
While each piece is truly one-of-a-kind, there are certain types of bracelets in this collection. You will find row bracelets, which have a single row of turquoise stones going around the silver cuff, in addition to single stone bracelets. This classic ingot 15 stone row bracelet is what we think of most often, but there is also this wider row bracelet, unsigned but could very well be done by Mark Chee. Notice this heavy, more contemporary row bracelet set with the finest natural Lone Mountain turquoise. Of the single stone bracelets, you will find large, impressive pieces like this agate and repousse bracelet and older, simpler pieces like this ingot bracelet dating circa 1925-1930. Finely stamped silver bracelets are other stars of our bracelet treasures collection. Here is our very old, intricately stamped ingot bracelet, so simple, but oh, so special. Another stamped piece is this fun silver bracelet with stamped indian heads. A fourth type of bracelet that you will find is the guard bracelet like this very affordable stamped ingot bangle.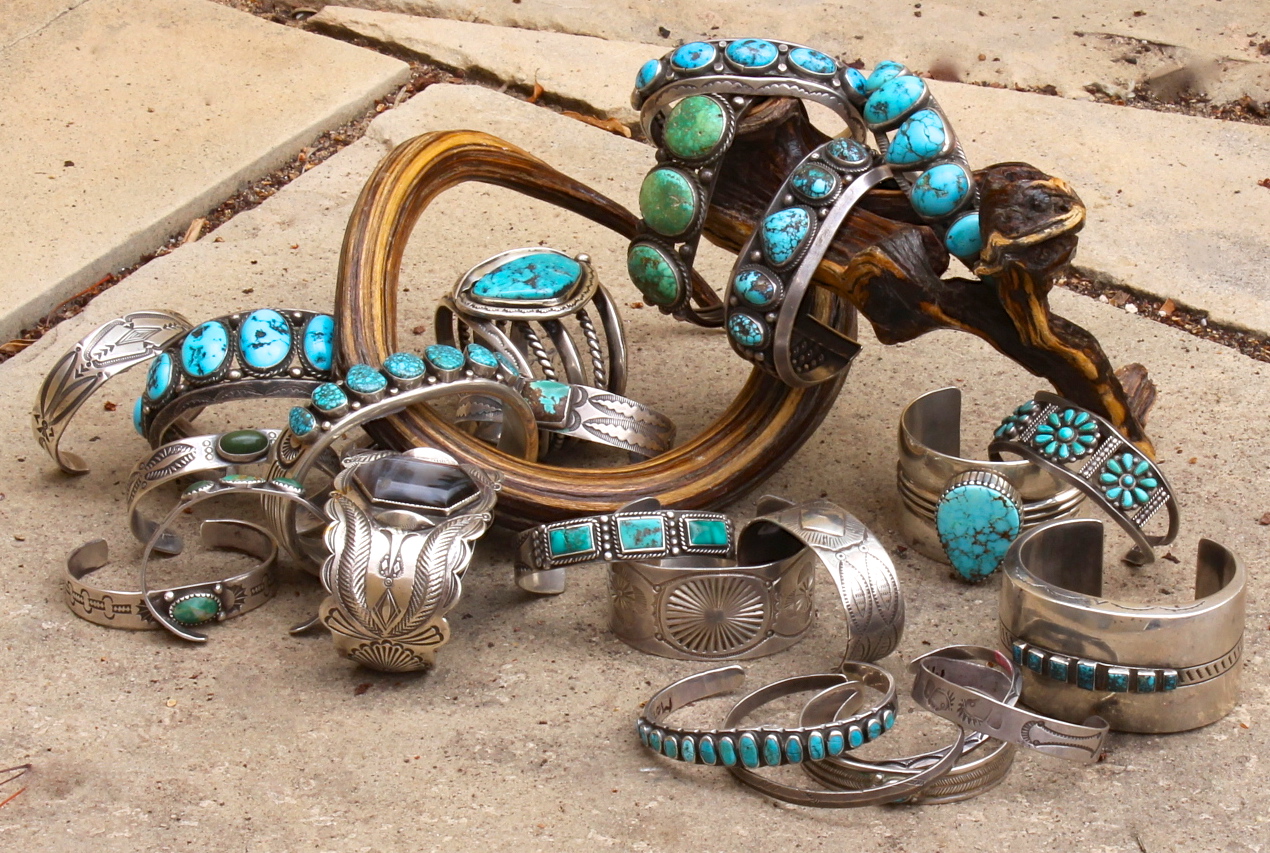 Each of these bracelet treasures is priced on a special sale so that you can start your own collection of treasures.
View historic American Indian Bracelets at Martha Struever Gallery
View historic American Indian Bracelets at Turquoise & Tufa Boutique