I have closely followed the career of American Indian jeweler Ron Bedonie for over eight years, and more and more, I've watched Ron Bedonie become every bit a master silver craftsman. Born in 1967, he comes from a long line of Navajo silversmiths, carrying on a family tradition of creating fine silver jewelry.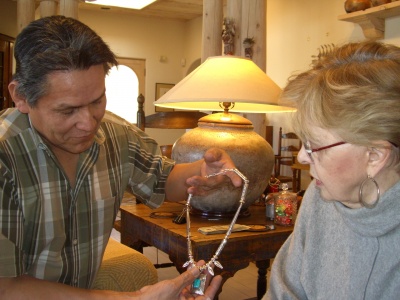 Looking at Ron Bedonie's necklace that he just recently completed

I am particularly enthusiastic about Ron Bedonie's jewelry because it is, first of all, exceptionally well designed. Ron creates absolutely breathtaking pieces of silver jewelry using only the finest natural turquoise stones. In fact, every once in a while, when I'm able to obtain some loose high-grade turquoise stones, Ron Bedonie is my go-to artist because I know that he will mount the stones so beautifully that the finished piece of jewelry will be unsurpassed.
What also stands out about Ron Bedonie is his unmatched technical skill in rendering beautifully executed stamped, chiseled and filed patterns on the surface of his bracelets, bolos, buckles and rings. No other jeweler pays closer attention to the fine details of surface patterns, and it certainly shows. Take a look at the intricate pattern on this Ron Bedonie bracelet or on this Ron Bedonie buckle, and it's easy to see why Ron has won so many awards for his jewelry.
Whenever I put on a Ron Bedonie piece of jewelry, I'm again astounded at the fineness of his execution. Indeed, with Ron's jewelry, I've actually been inspired to film a short video on Ron Bedonie where I show some of his pieces and discuss just why I think they're so great. One glance at the pieces I've assembled here and in the video should tell the story. My only problem is that I just can't get enough of his work.
View Ron Bedonie's jewelry here
Ron Bedonie shows me his newly completed silver and turquoise buckle